Are YOU dreaming of a Whiter Smile this Holiday Season?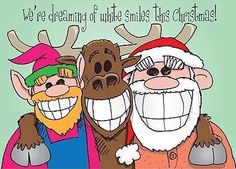 If so…..stop in the office and pick up your own home whitening system, Opalescence Go for just $85.00.  If you would like more information or have any questions please call the office at 973-827-5455.
Welcome to our new website!
Welcome to our new website. The staff at Vernon Dental hopes that you find our new website informative and helpful. The most exciting addition is the Online Forms that can be filled out online and transferred electronically and securely into your chart, thus conserving the use of paper. We have also added a Facebook page where you will find our hours as well as emergency closings during inclement weather.
This news section will be updated to reflect happenings within our office as well as useful and lighthearted articles that we would like to share with you. Please check back often.
Humor is infectious.
The sound of roaring laughter is far more contagious than any cough, sniffle, or sneeze. When laughter is shared, it binds people together and increases happiness. Laughter also triggers healthy physical changes in the body. Humor and laughter strengthen your immune system, boost your energy, diminish pain, and protect you from the damaging effects of stress. Best of all, this priceless medicine is fun, free, and easy to use.